Our pets enrich our lives in countless ways. They give us joy, comfort, companionship, and they love us unconditionally. Which is why they deserve to receive the expert pet grooming services only a professional like Bark To It can provide!
Bark To It mobile dog spa is committed to offering a relaxing, cage-free spa-like grooming experience to your dog right in your driveway. Our comprehensive grooming packages will not only get your pup clean, they'll also look fantastic and feel relaxed. We pride ourselves on being a sanitary and stress-free grooming environment.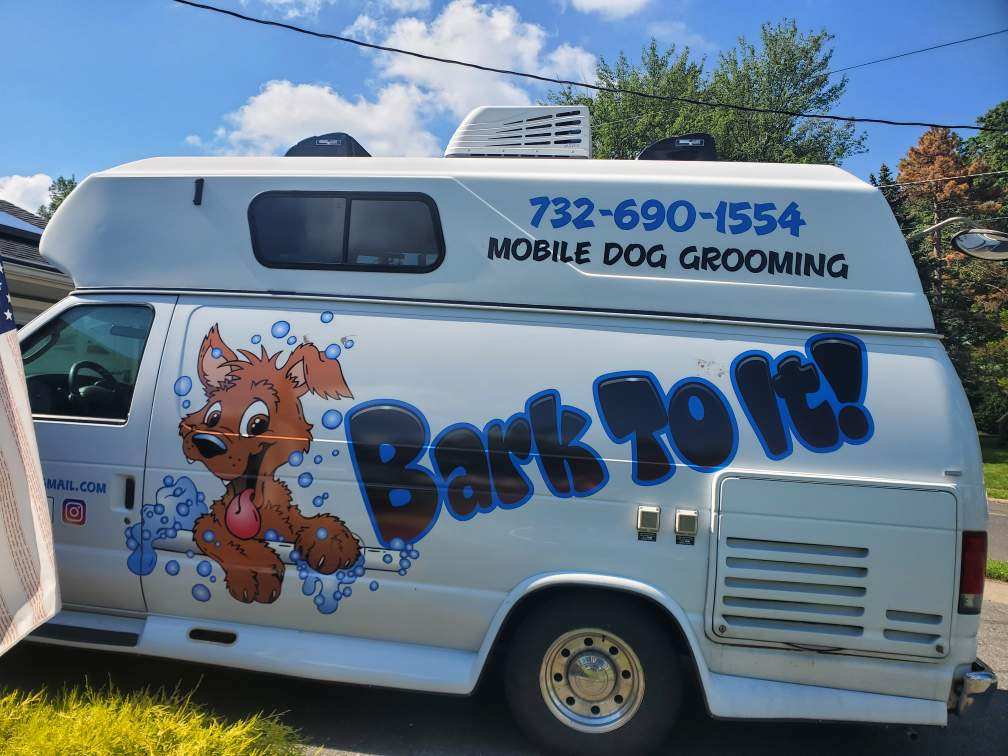 FAQ
What area do you service?
We service central Jersey.
What is grooming going to be like for my pet?
We give every pet a warm water massage bath, with two shampoos and a conditioning.  We trim the nails, we clean the ears and do what ever hair cut you choose.  Every pet is hand blow dried and worked on from start to finish, as we do not use cages or cage driers.
We do everything inside our fully equipped grooming van.  We are climate controlled with ac in the summer and heat in the winter.  We do not need to plug in to your home as we are generator powered and come with our own hot water tank.  Most pets are finished and relaxing back inside your home in 2 hours.
Why don't you have a set price list?
 All of our prices depend on the condition of the pets coat, the temperament of the pet, age as well as weight. Feel free to e-mail or call to get your free customized estimate. 
What kinds of grooming products do you use?
 We use top of the line products that are great for all types of skin and coat conditions.
Do you have any hypoallergenic products for pets with sensitive skin?
 We carry a full line of hypoallergenic shampoos, conditioners, and styling products for pets prone to itchy hot~spots and allergies.  
Cancellation policy:
 Being mobile, it is hard to fill a spot that has been canceled last minute. We require a minimum of 48 hours notice for all cancellations or a $50 cancellation/no-show fee will need to be paid before we can book your next appointment ($75 for holiday appointments between 11/01-12/26)
Running late:
 We pride ourselves on being on time.  However, sometimes due to traffic or delays with the client prior to your appointment, we may be running behind schedule.  We will ALWAYS call you as soon as we can to inform you of such delays. 
Where do I begin? Rebecca is a wonderful person. She truly loves what she does. The care she took with my babies was exceptional, and they look adorable. She took the time to give me advice on bathing and caring for my puppies, as well as recommending the products she knows work well. She went above and beyond to help me, I wouldn't take my sweet puppies anywhere else."
Steps to have a Spa Day with Bark To It mobile dog spa:
Be able to present your dog's valid rabies certificate.  It can be uploaded on this site or emailed.

Call, text or use our contact form to make an appointment.

Wait for an appointment confirmation. 

On the day of grooming, we'll consult on the service.

Doggies get groomed and are Bark To It!